Hello everyone,
I hope your week is going well. I'm just prepping to go at my doctor's appointment and since I have a spare hour, I thought I should drop by the blog and do a quick update, see how you're doing and talk a little about this year's Vday which is just in a few days !
Besides the normal Valentine's Day gift ideas (like perfumes and whatnot), how about envisioning of a lovely celebration at home ? A lovely breakfast, a nice afternoon together just cuddling and maybe some Netflix, a nice warm bath ..candles.. something very romantic, but at home !
I did a product selection that may inspire you; btw, there are a lot of gift ideas on the Valentine's Day theme available at Notino, so you should definitely take a look :) .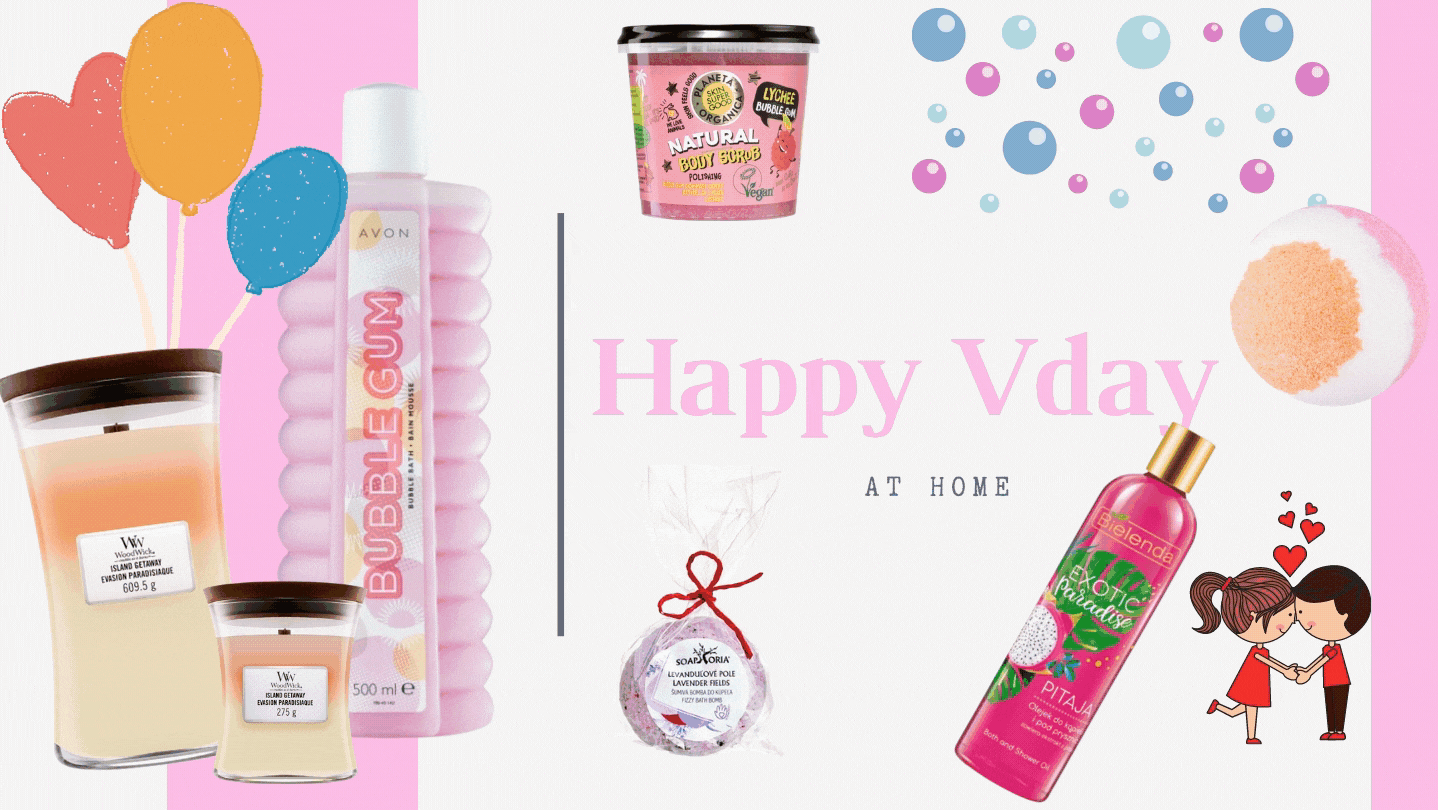 It's definitely not easy to come up with new ways to celebrate these holidays at home, but we can always take some inspiration online and make the best of it.
I'm a total fan of SPAs for exemple and I always love going on a spa day with my better half. This weekend will be impossible though, so I'll try to recreate the spa environment at home, with a touch of romance that is ;) .
Here are my favorite products:
Candles are always a must for this occasion and you know what a big fan I am of Woodwick, so here I chose the Island Getaway scent - it makes total sense as we are travellers and since we didn't go on a travel adventure for such a long time, might as well bring the travel to us. Island hopping is always our thing, so this scent is a reminder of those moments when we used to take advantage of those beautiful sunny days, lost on an island somewhere...
There is no bath complete without bubbles ( at least for me :D )
Here we have the Avon bubble bath with a bubble gum scent.
It's smells extra nice and I like the fact that it makes a lot of bubbles ( so you don't have to use a lot of product).
Avon has super affordable products and I know then ever since I was in highschool. They were very popular in Romania and I remember that I had only products from Avon at the time :).
You can always add a bath bomb in the mix.
I have different flavours of Greenum's bath bombs, but I must say, I think the Greenum Sexy would be my choice for this product selection.
It smells really nice and I'm sure you'll like it too !
If you're more of a shower body oil, then Bielenda Exotic Paradise Bath and Body oil is the one for you !
It's no mistake that I also chose an exotic scent, I'm still on the exotic island vibe :) And hey, if you don't have a bathtub, the product is still adapted for your shower ;).
And yes, it also smells AMAZING !
For bath salt lovers, I'm also integrating in my product selection the Soaphoria Lavender Fields, a bath salt that will totally relax you and make you stay in the bathtub for the whole evening.
The good thing about this bath salt is that it's also for people who have sensitive skin of have skin problems.
I am lucky enough to have both a shower and a bathtub in my bathroom so doing body wraps or body scrubs is very easy. Nevertheless, I think you can also do this if you either have a shower or a bathtub ( a shower would be easier though). Body scrub is super important to keep those nasty dead cells away from your skin and let it breathe !
That's why I integrated here the polishing body scrub from Planeta Organica. Yes, it's also vegan, cruelty free and natural... It has an extra to it - it smells of bubble hum and Lychee :)
So, this was my product selection. I hope you got super inspired for your Valentine's Day schedule ;) .
I wish you from now an amazing weekend and I'll be back with more very soon !
Kisses,
Disclaimer: article sponsored by Notino
#valentinesday2021 #vdayathome #vdayready #vdayinspo